Measuring Trust in Health Plans and Providers
This week, findings were released from the 11th Annual ReviveHealth Trust Index which "reveal trust in healthcare is dismal across the board, and trust in health plans is at an all-time low.... Factors driving widespread distrust in health plans by provider organizations include the hassle of doing business with payors and a lack of progress toward new models of payment and care."
ReviveHealth partnered with SMG Catalyst Healthcare Research to administer the survey, and collected 1,369 responses including: 604 consumers, 600 practicing physicians, 117 hospital and health system executives, and 48 health insurance executives. The survey "measures the attributes of honesty, fairness, and reliability, and then weights the scores equally to create a composite index number between one and 100."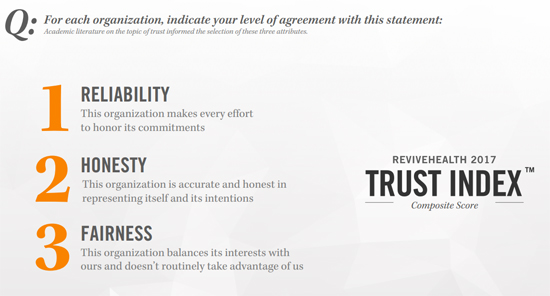 The findings were harsh for health plans: "it is evident that for payors, consumer-centric healthcare is simply lip service. When asked to rank 11 factors driving the transition to value, health plans selected "public sentiment about healthcare costs and coverage" dead last. Focusing on consumers in this year's survey brings a new level of depth to the findings which have historically focused only on B2B aspects of health services. If any one industry group needs to look inward and make operational adjustments more than the others, it's health plans. Payors received a collective failing grade (59.1 out of 100), attributable to a slew of factors including aggressive negotiation tactics, increased market share and narrow networks, and administrative inefficiencies."
With regard to stakeholder trust in each other - health systems level of trust in health plans scored 52.0; physicians level of trust in health plans scored 55.8, and health plans level of trust in health systems scored 68.4. Cigna had the strongest upward movement in trust of the six major plans included in the scoring, and Anthem had the most major downward movement. Consumers scored their trust of the other stakeholders at 74.2 for hospitals, 79.3 for doctors and 69.0 for health plans.
ReviveHealth isn't the only one measuring consumer faith in healthcare stakeholders. During the past year, Harris Poll issued its Reputation Equity and Risk Across the Health Care Sector report, that found: "only nine percent of U.S. consumers believe pharmaceutical and biotechnology companies put patients over profits, while only 16 percent believe health insurance companies do, according to a Harris Poll study released today. Meanwhile, 36 percent of U.S. adults believe health care providers (such as doctors and nurses) put patients over profits, compared to hospitals (23%)."
Harris Poll also found that "more consumers rate health insurance (24%) and pharmaceutical and biotechnology companies (20%) with low reputations, compared to hospitals (6%), health care providers (doctors and nurses) (5%) and technology (2%). Fifty-eight percent rate the reputation of the technology industry as high, compared to health care providers (43%), hospitals (37%), pharmaceutical and biotechnology companies (20%), and health insurance companies (15%). Nearly half of consumers say they think store pharmacists (49%) and health care providers (48%) offer high quality products and services, compared to hospitals (44%), pharmaceutical companies (31%), and health insurance companies (26%). Roughly half of consumers believe providers (51%) and hospitals (49%) make a positive difference in the country, compared to store pharmacists (39%), health insurance companies (26%) and pharmaceuticals (26%)."
Gallup's annual poll conducted last December on honesty and ethical standards of among various fields, ranked Nurses first, pharmacists second and medical doctors third out of 22 professions. HMO Managers ranked 16th, just above Senators and stockbrokers. Car salespeople and Members of congress brought up the rear.
For More Information:
11th Annual ReviveHealth Trust Index
Revive Health, September 25, 2017
Harris Poll: Only Nine Percent of U.S. Consumers Believe Pharma and Biotechnology Put Patients over Profits; Only 16 Percent Believe Health Insurers Do
Harris Poll, January 17, 2017
Americans Rate Healthcare Providers High on Honesty, Ethics
Gallup, December 19, 2016