The State of Managed Medicaid and Medicare
What's going on in Managed Medicaid and Medicare as we start looking into 2017? This week, Ari Gottlieb at PwC's Strategy& released their fourth annual Medicaid report, a 14-page paper on the current state of Medicaid, which is dominated by Medicaid managed care plans.
Their stated motive for the report is that "despite the significance of the Medicaid market, detail on the composition of the market, growth drivers, and trends is often elusive relative to other health programs. This analysis... aims to fill that gap by providing an in-depth view of the Medicaid market, including private Medicaid health plans, detailing the continuing impact of Medicaid expansion, and positing considerations for Medicaid health plans and organizations involved in Medicaid markets going forward, powered by the proprietary collection and analysis of state Medicaid data."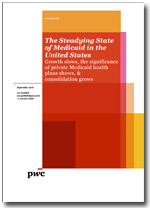 Here are tidbits from the report:
"In 2016 Medicaid still posted overall growth of 2.3 million beneficiaries, or 3%. This translates to 75.2 million Americans being covered by a physical health Medicaid program, or 23.4% of the nation's population.
In the past year, California added yet another 850,000 enrollees, for a total of 13.5 million residents on Medicaid - clearly the nation's largest Medicaid program by far. Over the past four years, California has added a staggering 5.6 million beneficiaries to Medicaid."
After California, rounding out the top five states with the largest enrollment are New York 6.1M; Texas 4.4M; Florida 3.9M; and Illinois 3.1M. In terms of the largest Medicaid percentage of the total population, the top five states are New Mexico 36.3%; DC 35.2%; California 34.6%; Arkansas 32.8% and Kentucky 31.4% The smallest share goes to Utah with 9.2%
"73% of beneficiaries are now covered by private Medicaid health plans, up from 70% last year, and 55% in 2013. 54.7 million Americans are covered by private Medicaid health plans, an increase of 60% from 2013. Over the past year, private plans added 3.4 million beneficiaries, while the number of beneficiaries enrolled in fee-for-service or public managed care decreased by 800,000. Since 2013, private Medicaid health plans have added 20.5 million to their rolls, while those in fee-for-service or public managed care has decreased 2.8 million."
Five states now have 95% or more Medicaid enrollees in managed care plans (TN, HI, NH, IA, NJ) while four states are under 30% (ID, AR, ND, MT)
"Medicaid continues to be incredibly local. 165 plans this year operate in only a single state (90%, unchanged from last year). Only nine plans operate in four or more states, with an additional nine operating in two states.
With Health Net's acquisition by Centene, the number of plans with greater than 1 million members declined to 11 from 12. 76 plans have fewer than 50,000 members (including 21 managed long-term care plans with an average membership of 6,100). Excluding the 11 plans over 1 million and the managed long-term care plan, the remaining 151 plans have average membership of 155,000, a 12% increase from last year, reflecting the consolidation of sub-scale players.
On the Medicare Advantage front, CMS last week released the following MA premium and enrollment information for 2017:
- MA monthly premium will decrease by $1.19 (4%) in 2017, from $32.59 on average in 2016 to $31.40
- This would be 13 percent lower than the average Medicare Advantage premium prior to ACA passage
- 67% of Medicare Advantage enrollees will experience no premium increase.
- 99 percent of Medicare beneficiaries having access to a Medicare Advantage plan.
- MA Enrollment is projected to increase to 18.5 million enrollees next year, a 60% increase from 2010.
- In 2017, 32% of all Medicare enrollees will be in a Medicare Advantage plan compared to 24% in 2010.
Meanwhile, on the operations side of things for MA plans, Sherlock Company this week released the following benchmark information from their 2016 Medicare plan edition of the Sherlock Expense Evaluation Report (SEER). This benchmarking study analyzes in-depth surveys of ten Medicare focused plans serving 3.7 million members, of which 673,000 are Medicare Advantage or Medicare SNP members
Sherlock found that:
- The administrative expenses of Medicare focused plans decreased at a median rate 3.2% per member, less dramatically than last year's decrease of 6.7%.
- Account and Membership Administration costs accelerated to a 6.6% increase, up from a 5.3% decrease last year, chiefly due to a surge in Information Systems expense growth.
- Medical and Provider Management costs declined, owing chiefly to reductions in Medical Management costs.
- Sales and Marketing and Corporate Services costs declined. The median total cost was $44.72 per member per month (PMPM), higher than the prior year's $42.02 PMPM.
For More Information:
The Steadying State of Medicaid in the United States
PwC, September 2016
Medicare Plans Continue Cost Decline but Information Systems Costs Accelerate
Sherlock Company, September 26, 2016
Medicare Advantage premiums remain stable in 2017; beneficiaries have saved over $23.5 billion on prescription drugs
CMS, September 22, 2016