What MACRA Means to Medicare Advantage Plans
This week, the HealthcareWebSummit event: MACRA and Medicare Advantage Plans: Synergies and Potential Opportunities, featured Milliman's Christopher Kunkel, Lynn F. Dong and Noah Champagne discussing how the MACRA impact on Medicare fee for service will spill over in Medicare Advantage land.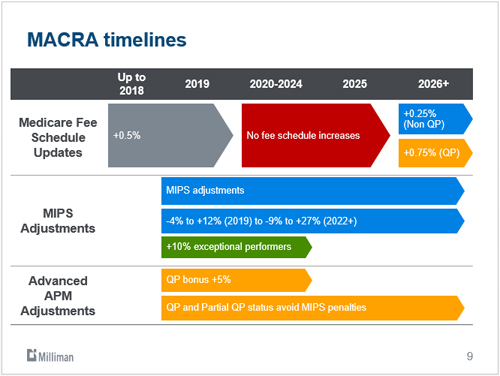 Here's questions the speakers told stakeholders to consider for their situations:
- How will MACRA affect MA plans' provider payments?
- What synergies exist between MACRA's quality scoring and the MA Stars quality program?
- How can MA plans help providers achieve Qualifying Participant (QP) status?
- What incentives exist under MACRA for providers to improve risk score coding?
- How are MA plans in the market responding to MACRA?
They addressed these potential MACRA synergies for Medicare Advantage plans regarding their provider networks' participation in MACRA :
- Quality metrics
- Medicare Advantage and CMS Advanced APMs
- Medicare Advantage provider contracts
- Fee schedule impacts
- Provider/payer partnerships
Regarding quality metrics, the speakers cited a significant overlap of metrics between MA and the APM/MIPS programs. While providers can choose from hundreds of metrics under MACRA, MA plans may be able to help steer providers towards mutually advantageous choices.
The speakers noted that the CMS objectives for advanced APMs - MSSP and Next Generation ACOs - are becoming more closely aligned with Medicare Advantage program. As such, there are risk adjustment opportunities under Next Gen and Medicare Advantage; quality overlap with STAR ratings, and applicable provider care management programs can impact MSSP, Next Gen, and Medicare Advantage populations.
Regarding MA plan provider contracts, the Milliman speakers predicted there will likely be provider movement towards Advanced APMs (All-Payer criteria for QPs). They counseled that MA plans should review contracts compared to Advanced APM criteria, and consider the costs/benefits of developing, maintaining, and administering such contracts.
What are the provider fee schedule impacts? The speakers see pressure on Part B providers, and providers may look for contract changes. Also, downward pressure on FFS costs may drive down MA capitation rates. The speakers ask stakeholders to consider what does "FFS Medicare" mean in a MACRA world? Do you include or exclude MIPS adjustments and QP bonus FFS Medicare analysis? What will be the contracting impact on high-performing vs. low-performing providers?
The speakers emphasize the potential opportunities this brings about for provider and plan partnerships. Providers are increasingly moving towards risk arrangements. and are looking for partners that can support them with financial protection, network considerations, provider education and engagement, care management, risk score improvement, quality metric submission, and legal/regulatory issues. The speakers counsel Medicare Plans to leverage their resources and capabilities to meet these provider needs.
For More Information:
MACRA and Medicare Advantage Plans: Synergies and Potential Opportunities
HealthcareWebSummit, March 29, 2017